A Hellish Journey
Half Build 1.6.5: "The City, The Bull's Story"
---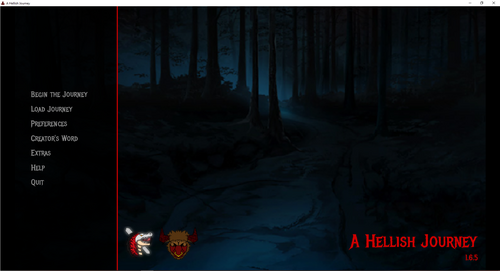 Hello Everyone, BigBuffDemonBoi here!,
Another update has finally came, it may be only just half of the day but there are extras that you need to check out! Apologies for the delay of updates, IRL Situations really get the best of my time and I can't focus on my VN, but finally, I was able to finish an update and here it is~
This update will be focusing on our lovely bull, Thayne with his side story. And for the main story's daytime, I'm giving you guys the chance to be Lewd for the day:
Aproximately 200k words now!!! (30k on this update)
A new and better sprites for our handsome dergs Drago and Tchort!~
A very great rework sprite in honor to our lovely bull, Thayne!
A Side Story for Thayne, with two characters with sprites, find out who they are! (Click the bull icon on the bottom left to start the story)
Gallery is finally here! (The updates for today wont show at the gallery at the moment)
Find out in the city a secret place that contains an updating numbers of NSFWs, and perhaps, meeting a formal stranger~
2 new NSFWs for the secret place, and a new NSFW for the bear!
Decisions are much more important now, so keep in mind to make different save slots!
Stay tuned on the half of the day, it'll be a massacre, hehehe~
I hope you all will enjoy the new update my friends, stay tuned and have a nice day y'all!
Files
AHellishJourney-1.6.5-pc.zip
283 MB
Jul 27, 2022
AHellishJourney-1.6.5-mac.zip
249 MB
Jul 27, 2022
AHellishJourney-1.6.5-linux.tar.bz2
256 MB
Jul 27, 2022